Sugar Dating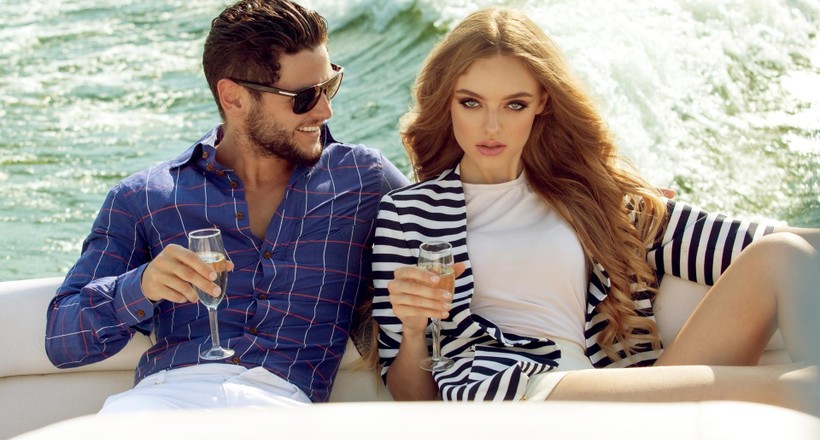 People who don't know much about sugar dating fall under two categories—those who actually believe that sugar dating is a form of vanilla relationship, and those who think that's another form of sex work. Is the truth somewhere in the middle of them? Yes and no—there are lots of aspects of a sugar dating culture that make it a fundamentally new kind of interaction between two people, and in this guide, we talk about all the smallest aspects, benefits, pitfalls, and dangers of sugar relationships, as well as about the best sugar daddy sites to use in 2022.
Popular websites for Sugar Dating
The number of sugar daddy sites is growing year by year, but these seven platforms remain to be considered the best sugar dating sites for all people seeking mutually beneficial relationships.
SecretBenefits

— 9.9⭐

AshleyMadison

— 9.7⭐

SugarDaddy.com

— 9.6⭐

SugarDaddyMeet

— 9.6⭐
LuxuryDate — 9.5⭐

WhatsYourPrice

— 9.5⭐
SugarBook — 9.3⭐
Secret Benefits
For many users, the main reason to join a sugar daddy dating site is the dating pool. SecretBenefits is one of the best sugar daddy dating sites for those who want to have as many matches nearby as possible—currently, the platform has around 20 million monthly visits on average. Also, this is one of the modern and safest websites to use. Secret Benefits has a polished design, a video verification procedure, and many really useful search filters, and though messaging is the main and only communication tool it works great for those who want to find a perfect sugar daddy or a sugar baby sooner and meet them in real life.
Ashley Madison
AshleyMadison is often included in the lists of the best sugar daddy websites. Some will say it's not surprising as Ashley Madison now has over 20 million members worldwide, but others can argue that it's an affair, not a sugar daddy dating site. Both will be right. Over time, this platform transformed from a site for extramarital affairs to a place where both single and married sugar babies and sugar daddies (as well as sugar mommas and male sugar babies) look for mutually beneficial arrangements. It's completely free for ladies, and its prices are reasonable for men. All members can use the special privacy features to remain anonymous and send regular and Priority messages.
SugarDaddy.com
It's not a secret that you can meet a catfish even on the best sugar daddy sites. SugarDaddy is the sugar website that takes all the measures to minimize this chance by developing special verification procedures for members. In particular, a sugar daddy or a sugar baby won't join the community if they aren't ready to provide their real photos (that will be checked by the system). Those who want to attract as many potential sugar daddies and sugar babies as possible can also upload a verification video for free. Other tools like messaging and search are pretty standard ones, but the safety level is definitely what makes SugarDaddy.com stand out.
SugarDaddyMeet
Many best sugar daddy sites restrict access in some countries, but SugarDaddyMeet is probably the only site that restricts it for 175 countries in the world, letting only people from 20 richest countries use it. In other words, it narrows the dating pool to make sure that every sugar daddy and every sugar baby will not only find a good match but also ensure this person will live nearby or be able to pay enough for sugar dating. There are other reasons to use it, too. In particular, members can not only send messages and likes but also comment on other users' photos, which is a pretty special feature for a sugar daddy website.
Luxury Date
Luxury Date is not the most special but definitely a good sugar daddy site to join and use. Generally speaking, it has most of the advantages that the above-mentioned platforms have, but it's too new to have as many members as Secret Benefits. Still, the community is rapidly growing, and this is explained by the great and free verification policy, high-quality profiles (you can't join unless you provide detailed information and your real photos), messenger and advanced search with filters created especially for those who look for a perfect sugar daddy or a sugar baby.
WhatsYourPrice
Good sugar daddy dating sites are more or less similar, but WhatsYourPrice is a unique platform. On this sugar daddy site, just like on any other, members can create accounts, add photos to their profiles, talk to people and then go on dates. But that's not the full list. Also, the sugar daddies can pay for a date with a sugar baby by placing a bid, and if she accepts it, they will really go on a date. Both partners can avoid the awkwardness of discussing the PPM for the first date, and there are also safety guarantees—if a date is canceled for any reason, a sugar daddy gets a full refund.
SugarBook
Sugar Book is one of the premium sugar daddy sites with lots of members worldwide. It doesn't accept people looking for a vanilla relationship—it's created exclusively for those who want to start a mutually beneficial relationship with a decent partner. The good news: a sugar baby who can prove they're now studying at college can use the site without paying. This is also one of the best platforms for those who value privacy—users on SugarBook can hide all the details they don't want others to see. Standard features like messaging, search, favorites, etc., are available too.
Popular apps for sugar dating
Though both app stores have certain restrictions for companies trying to launch their sugar dating apps, there are a few niche products that work for all mobile users who prefer to use apps rather than sugar daddy websites.
AshleyMadison

—9.7⭐
Sudy Dating App—8.8⭐
LuxuryApp—8.7⭐
Ashley Madison
We mentioned that Ashley is the best sugar dating website for married people and those who are now single but don't mind starting non-exclusive sugar relationships, but it also is an outstanding sugar daddy app for mobile users. The features are the same (messaging, priority messages, search, everything is available to mobile users), and the application is available on both Google Play and App Store. There are no special restrictions, no bugs, and overall, that's an excellent option for those who use their phones more often than laptops.
Sudy Dating App
Sudy Elite dating application is a rare sugar daddy app that is available on both app stores. However, this sugar dating app doesn't work for gay sugar daddies, male sugar babies, and sugar mommas, not because it's the company's policy but because there are two other versions of the app exclusively for these categories of members. They can upload Gay Sudy or Les Sudy to narrow the search and get a great online dating experience.
Sudy encourages female users to verify their accounts to unlock free messaging, so a sugar daddy will hardly meet a catfish here. Also, on this app, members can not only interact in standard ways, by sending likes or messages, but also by posting moments on the Feed and commenting on photos.
Luxy App
The name of this sugar daddy app speaks for itself—it's a really luxurious platform created only for legit millionaires and sugar babies who meet their criteria. On sugar daddy websites, anyone can join the community without much difficulty, while Luxy members have an approval procedure for new users. Potential members create an account and wait until their application is approved, and this will happen only if half of active members of Sudy vote for them. There are some standard features like messaging and virtual gifts, but sugar daddies can also send real bouquets to members they like.
The essential theory: Let's start with definitions
Below, you can find the definitions and explanations of all the most important sugar terms, from the meaning of sugar baby to the differences between Salt and Splenda daddies. This information is essential for each person who joins the Sugar bowl.
Who is a Sugar Daddy?
A sugar daddy is a wealthy man looking for the company of younger women and is ready to compensate them for their companionship and time. Though this man isn't interested in vanilla dating, he still usually expects many of its elements to be in his relationship with a sugar baby.
A couple usually goes on dates, is texting, spends time together, goes on vacation, and has sexual intimacy in 95% of cases. As for the compensation, a sugar daddy usually pays a monthly allowance, but some agree to pay a sugar baby for each date (such a relationship is still about dating, not sex work).
What is a Sugar Baby?
A sugar baby is usually a young and attractive person who wants to benefit from dating older and wealthier partners financially. Though money is often their main motivation to start sugar daddy relationships, they don't provide sexual services in exchange for money—they are actually dating their partners, and intimacy is just the part of this relationship.
There are different types of sugar babies, though, and if you want to learn more about what it is like to be a sugar baby and what kind of sugar baby suits your lifestyle and preferences, you can find more information in this guide.
What is Sugar Dating?
Sugar dating is the new type of a relationship, or rather the old type of relationship that was recognized, called, and distinguished a few decades ago. In this relationship, one of the partners, namely a sugar daddy, compensates another partner, a sugar baby, for dating him. There are different variations; in particular, it may be a sugar momma and a male or female sugar baby, a gay sugar daddy and a male sugar baby, etc., but it's always about compensated dating.
We would also like to emphasize once again that it's not sex work because companionship is always involved—if a couple meets only for sex and one of the partners pays for it, it's sex work, not a sugar relationship.
What is a Splenda Daddy?
A Splenda daddy is a man who wants to become a part of the sugar dating world but doesn't earn enough to pay a sugar baby at least the average monthly allowance.
His income is average, he drives a cheap car and can't afford to go to fancy restaurants—basically, this is a regular man who wants to date young and attractive women. Scamming them pretending he is going to pay them a fortune isn't his main goal, but a sugar baby who agrees to date him will have to agree to earn much less money and go to mid-range (in the best-case scenario) places instead of fancy ones, forget the idea of going to a luxury resort, etc. That's why sugar babies prefer to spot and avoid both Splenda and Salt daddies.
What is a Salt Daddy?
A Salt daddy is a man who pretends to be one of the rich sugar daddies looking for a partner, but he's not going to pay a sugar baby or date her for a long time. His main goal is to have sex with an attractive young woman by giving empty promises. Usually, such men join sugar daddy websites, create good profiles, and say they're very interested in a relationship with a sugar baby, but they want a date (and sex, of course) before they agree on a monthly allowance. All sugar babies try to avoid such members by following the specific rules of spotting a Salt daddy.
What is a Platonic Sugar Daddy?
A platonic sugar daddy is also a wealthy man looking for potential sugar babies to date, and he's interested in all elements of classy sugar relationships except for physical intimacy. Platonic sugar daddies fall under two main categories. A benefactor looking for a platonic mutually beneficial relationship can be an "online sugar daddy" or a regular "offline" sugar daddy.
Men from the first category look for online communication and aren't interested in meeting their sugar babies in real life, while men from the second category want to spend time together offline, go on dates and vacations, etc., but don't have sex with their sugar babies.
Note that most sugar daddies consider physical intimacy the essential element of any sugar arrangement, but even despite the fact there are fewer platonic sugar daddies, they exist.
What is a Sugar Momma?
A sugar mama is a mature woman who doesn't look for benefactors but is a benefactor herself. Just like a sugar daddy, she's interested in dating younger attractive sugar babies and is ready to pay a monthly allowance/PPM rate for dating, buy gifts, pay for the trips, etc. Please note that a sugar momma can look for male sugar babies, female sugar babies, or both.
The only important difference between sugar mommas and sugar daddies is that men look for long-term relationships less frequently than female benefactors. Though the number of sugar mommas on the best sugar dating sites is lower than the number of sugar daddies, sugar momma dating is becoming more and more common, and it's expected to grow in popularity in the future.
What is a Gay Sugar Daddy?
A gay sugar daddy is a successful man who's interested in finding male sugar babies only. There are no important differences except for the sex of potential partners. Just like straight sugar daddies, gay sugar daddies are usually looking for younger attractive partners and are ready to compensate them for their time.
If you want to know all the tiniest aspects of gay sugar dating, you can find all the information in this guide.
What does Male Sugar Baby mean?
A male sugar baby is a man, usually young, attractive, and ambitious, who's looking for a benefactor and wants to start a mutually beneficial sugar relationship. As for the partners, a male sugar baby can date same-sex partners, i.e., sugar daddies, women, i.e., cougars or sugar mommas, or both. If a male SB dates sugar mama, he can be called a "sugar cub", too.
Just like female sugar babies, male SBs may look for different types of sugar arrangements, but it's always about compensated dating.
Main Sugar Dating principles and rules
The information above was aimed at helping to understand the main sugar roles and statuses. Now let's analyze the main sugar dating rules and terms in more detail.
Main SB/SD relationship rules
There are rules that both partners should follow in a sugar relationship:
Know what you want and discuss it with your potential partners

Don't fall in love—it's always an arrangement, even if you develop authentic feelings (which is a normal thing that makes a relationship more enjoyable for both a sugar daddy and a sugar baby)

Don't think you can change the terms of your arrangement at any time on your own—this always must be discussed, and in some cases, changes lead to breakups

Avoid negative feelings such as jealousy or the desire to control your partner

Always follow the rules of your arrangement in everything, from payments to the frequency of dates
These, however, are just the basics—there are many other important sugar relationship rules that sugar babies, sugar daddies, and sugar mamas should follow.
What is Mutually Beneficial Arrangement?
A mutually beneficial arrangement is an arrangement between sugar partners that covers the interest of both parties. Basically, these are the terms that you both agree on and must follow. It'd be wrong to say there is one arrangement for all—every couple decides what they want to do, what they won't do, how much a sugar baby receives for her time, how often they want to meet, what are the special conditions, etc. If you are a beginner and want to learn more, we recommend taking a look at the step-by-step instructions on how to set up the mutually beneficial arrangement and avoid common mistakes.
No strings attached relationships; what does it mean?
No strings attached relationships are synonymous with casual relationships—a couple meets for sex and fun but without any kind of commitment. Some sugar daddies and sugar babies look for this type of relationship, but it's important to consider that when no strings attached is paid, there is a very fine line between it and sex work. In the world of sugar, acceptable no strings attached is when you meet from time to time without starting a long-term relationship, talk, go to restaurants or parties, and also have sex. If it's just blatantly paid sex, it isn't a sugar no strings attached relationship.
Sugar dating guidelines for beginners
Now let us move on to practical guidance for everyone who's going to enter the sugar dating scene.
How to become a Sugar Baby or a Sugar Daddy?
Generally speaking, there's a widely used scheme that can help both beginner sugar babies and sugar daddies get started:
Learn more about mutually beneficial relationships, common terms and conditions for both parties, both pitfalls, and advantages

Make sure you meet the basic criteria that a successful sugar baby or a sugar daddy is supposed to meet

Look for the specific tips that can help you start your first conversation, discuss the allowance, and avoid scams

Learn more about the best sugar daddy sites, analyze multiple options, and find the sugar dating site that will work best for you
Still, it'd be wrong to deny that there are significant differences between becoming a sugar daddy and starting a sugar baby career, and singles should consider them, too, in order to succeed.
How to find a Sugar Daddy, Baby, or Momma?
There are also common recommendations on how to find a sugar partner—we list all the most important steps below:
Choose the best sugar dating site (there is the best sugar daddy site or a platform for sugar mommas)

Create a good profile paying special attention to photos and a bio

Upgrade your membership plan (this is usually a must for sugar mommas and daddies who use one of the reputable sugar sites, sugar babies often don't need to pay for messaging)

Look for matches using search, read profiles carefully

Communicate with members, learn more about a potential partner—both their personality and expectations about sugar relationships

Go on dates, meet potential sugar daddies, sugar mommas, and sugar babies and start dating someone who seems the best match for you
But what about the differences? There are pretty many of them, and we recommend everyone learn more about the ways to find an ideal partner considering your sugar status. Useful information and specific tips can be found in the three main guides:
Average Sugar Baby allowance
The amount depends on the two most important things: a sugar baby and her expectations and average and the average allowance on the local market, namely in her city. In the largest cities, there'll be higher monthly payments for sugar babies—the average "price" usually starts at $2,500-$3,000. There are more tiny aspects; for example, the cost will be higher or lower if you prefer PPM compared to monthly allowances, so try to learn everything about payments that sugar babies receive to set a reasonable price.
Do Sugar Babies sleep with Sugar Daddies?
In most cases, they do. As we've noted before, the chance of meeting a platonic sugar daddy exists, but it's very, very small compared to a chance of meeting a sugar daddy who wants to have an intimate relationship with a sugar baby. Sugar dating is about companionship and affection, and people who have feelings for each other and spend a lot of time together usually have sex. However, again, a relationship between someone who provides sexual services and someone who pays for them can't be considered a sugar relationship because nothing but paid sex is involved.
Age difference in Sugar Dating
Some media and people often depict a sugar relationship as a relationship between a very old man and a very young lady, noting that the age difference is at least 40-50 years. However, it's not always the case. The average age of a sugar daddy ranges from 45 to 60 years old, while the average age of a sugar baby is 18-25 years old. Moreover, these are just the average figures, and now younger sugar daddies and older sugar babies start looking for partners, too, and most importantly, find them. Generally speaking, you can expect an average age difference between a sugar daddy and a sugar baby to be 10-20 years.
Is sugar dating legal in the US?
Now, it's in a gray zone. There is no law that would regulate such form of relationship or activity, and hence, no one can be prosecuted for it. Again, it's about the differences between sugar dating and sex work—a sugar relationship always has the elements and features of a regular, traditional romantic relationship. If we assume that someone wants to accuse you of committing a crime, they just won't be able to do it because you are texting with your partner, going on dates, or spending time together. Simply put, sex and monetary compensation are not the only reason you meet. Still, there are some more aspects to consider to be sure that your relationship doesn't violate the law.
Beware of Sugar Dating scams
The richest sugar daddies and the most attractive sugar babies can turn out to be scammers. No one is completely safe, and both sugar babies looking for benefactors and benefactors should be careful when looking for a new platform. Here are some practical tips that can help distinguish wealthy sugar daddies and real SBs from fraudsters and protect your money:
Google photos of a potential match, no matter how good a sugar website seems to be

Spot the red flags—things moving too fast, low monthly allowance, too generous monthly allowance, anything that seems too good to be true.

Don't open the links sent to you

Don't accept or send money in advance

Stop communicating with someone who always finds excuses not to meet you in real life
These are just the basic rules, and we highly recommend anyone who's going to use a sugar dating platform, even if it's the best sugar baby app or one of the top sugar daddy sites, learn more about the types of sugar scams before they start their journey.
Final thoughts
As you can see, the sugar culture is complex, but once you learn more about its core principles and rules, it will be much easier to understand all its nuances. Yes, there are sugar daddy apps to use and sugar baby sites to join, but we believe that doing background research and understanding the rules of the game is what can help a person realize if sugar dating is what they were always looking for and avoid making wrong or meaningless choices when looking for a suitable partner.