How To Find A Sugar Daddy On Instagram?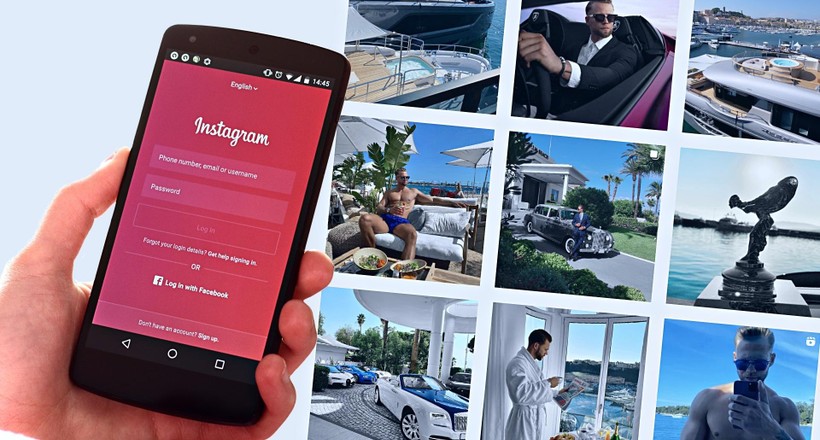 Though Instagram wasn't designed for anything but sharing photos, it's become the global platform for building a career, promoting services, and even finding partners. Does it work for sugar babies looking for a benefactor on the Internet? If yes, how to meet sugar daddy on Instagram? That's exactly what we're going to discuss in this guide.
Upgrade your Instagram account
Even on niche sugar dating sites, profiles are incredibly important, as they are the only tool that sugar babies have to attract a partner. The rules on Instagram are the same, but it takes even more effort and, most importantly, knowledge to attract a sugar daddy, not one of the sugar daddy scammers. Below, we share some of the most effective tips that work for sugar babies looking for a benefactor on this social media site.
1. Write a good bio
Bio is the first thing that grabs the attention of a profile visitor. It must be short and meaningful, and though it's recommended to use emojis to add some visual content, you shouldn't overuse them. We also wouldn't recommend mentioning sugar dating, even if you created a separate page to find a benefactor. In this case, it's better to give hints than to directly say what your intentions are.
2. Add only the quality photos
Here's the common mistake many sugar babies on Instagram make. They focus on sexuality more than anything else, and though it's important, too. We'd recommend paying enough attention to aesthetics, quality, and personality as well. Remember that the way you express yourself on social media platforms affects not only the attitude of your followers but also the monthly allowance or PPM rate.
3. Focus on positive and diverse content
All sugar daddies, including Instagram sugar daddies, spend time with sugar babies and provide them financial help because they get everything they always wanted to have—positive emotions in a relationship without any negative consequences and "side effects" of traditional dating. Don't post sad quotes—show a sugar daddy that you are that perfect optimistic, and happy partner he was searching for.
Start the search
What if you already have a perfect sugar baby Instagram profile? In this case, you can start taking specific actions to improve your chances of finding a sugar daddy on this platform.
1. Follow the pages that wealthy men usually follow
Some sugar babies prefer just to contact rich men on Instagram, but unfortunately, such a direct approach does not always turn out to be effective. Instead of it, you can follow pages that rich men usually follow—those about luxury things, cars, stock markets, investments, and trips. You can comment on posts, chat with others, meet new people, and one of them can become your benefactor.
2. Use the right hashtags
It may seem that using hashtags #sugardaddyneeded, #sugardaddydating, #sugarbabydating, and others is the key to finding a sugar daddy, but it's rather a key to meeting a scammer. Unlike real wealthy men, fraudsters really use them. Hashtags related to the interests of a potential sugar daddy are much more helpful—try #golf, #lamborgini, #polo, #hunting, or #vineyard instead. Also, you can use location tags to find potential partners.
3. Follow rich men, like their posts
If you want to be a bit more active, you can find the profiles of rich men and follow them, like pictures and posts, and if you don't want to message them directly, it will help you draw their attention.
Sugar daddy scams on Instagram
Instagram Sugar daddy scam is real, and unfortunately, it's even more common than scams on niche sugar dating platforms. The good news is that you can spot a scammer pretty easily, as they all use the same scheme.
How do sugar daddy scams work? Fake sugar daddies contact a sugar baby, gain her trust, tell her how rich they are, and pretend that they're ready to send money despite the fact that they've never met their potential partner in real life. After that, a scammer usually uses one of the following sugar baby scam methods.
1. Cryptocurrency sugar daddy scams
This type of scam works with sugar babies who have never dealt with cryptocurrencies before. Usually, one of the Instagram sugar daddies pretends to be going to send you some BTC but asks you to go to an ATM and transfer money to "verify" the transaction. Note that you don't have to send a crypto or fiat payment to receive a crypto payment —you only need a wallet.
2. Cash App/PayPal scams
The principle is the same—a scammer wants to send you $3,000 but wants you to send $10-$50 first to verify the transaction. Then, they just disappear.
3. Fake check and gift card scams
The scheme with fake checks is a bit different. A scammer really sends you a check or money to your bank account but asks for a small favor, for example, to return some money or buy him a gift card. Then the check turns out to be fake, or a credit card turns out to be stolen, and you lose all the money he sent you + the money you returned to him or spent on gift cards.
Red flags that can help you spot a fake sugar daddy
As you can see, the main principle is always the same—a generous man (not always even an older person) offers money just because a sugar baby is attractive, and doesn't even try to set the rules of a sugar arrangement or get a date in real life. How to spot a fake sugar daddy on Instagram? Remember this sign and also pay attention to the following:
Photos—these must be real photos of a real person. Rich men don't just post photos of luxurious stuff they have, they have regular Instagram accounts and definitely don't use stock photos (check a few pictures using a Google image search).

Hashtags—as we've mentioned previously, a real sugar daddy will never use sugar daddy/dating hashtags on his account.

Priorities—a scammer wants to gain your trust, so he is likely to tell a lot about himself and try to provide "evidence" and "proof" that he's real but won't try to learn much about your life, goals, priorities, and expectations.

Personal details—a real man seeking a sugar relationship won't ask you to share them, he'll rather ask you out.
How to know if an Instagram sugar daddy is real? Just use these tips, and you'll be able to spot a scammer pretty easily.
Effective ways to find sugar relationships in 2022
Although Instagram can be used as a platform for meeting new people, including sugar daddies, it's still not a niche site. If you care about safety and want to find a benefactor soon and without getting scammed, you can consider one of the sugar dating websites where all users are seeking arrangements, and where moderators delete suspicious accounts.
Secret Benefits
SecretBenefits is the world's largest sugar community, so if you'd like to choose among the largest number of potential partners, this is the right place for you. Another benefit of SB is that most profiles here are verified, which means most members upload videos of themselves saying the code phrase. Watch it to ensure a person is real and enjoys communicating with them.
Ashley Madison
AshleyMadison was known as the world's best affair website, but now it's considered one of the top sites for sugar babies and sugar daddies. It's completely free for women and has some of the largest pools of sugar daddies seeking different types of relationships, from short-term casual sugar arrangements to something more long-term and serious.
SugarDaddy.com
SugarDaddy.com is one of the modern and, most importantly, one of the safest sugar sites with legit sugar babies and sugar daddies. You just can't join it if you aren't ready to provide your real photos (the system will check them), and all the members can verify them later by uploading a profile video.
Summary
Sugar daddy, Instagram—are these things compatible? Yes, they are, and if a sugar baby makes enough effort and is patient, she can find a perfect match on this platform. Still, legitimate niche websites usually work much better and are much safer than all social media and networking sites.