Guide #4. How To Fill Daddy's Profile
Latest update: Mar 14, 2019
15534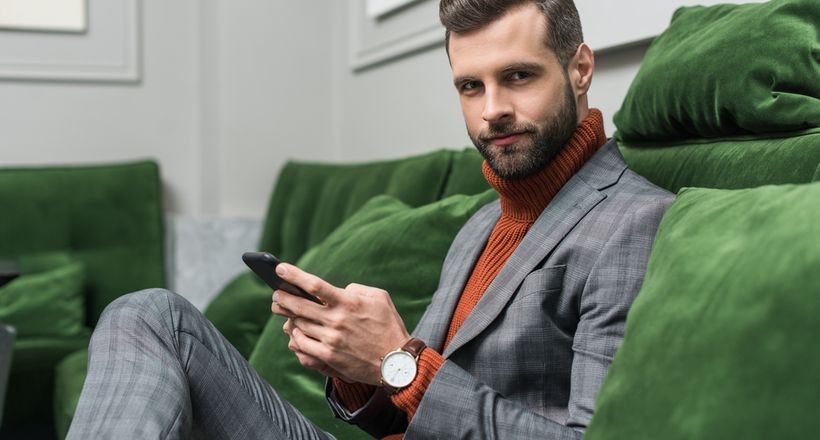 Sugar dating websites offer countless profiles to search from. What differentiates one from the other is the way the profile is created. If you are looking for a mutually beneficial relationship and make the most of sugar dating websites, create and impressive sugar daddy profile .
A sugar daddy's first impression plays a pivotal role in how the arrangement will play out and if the sugar baby will subscribe. Let us have a look at the various ingredients to cook up an admirable sugar daddy dating profile and find out all the answers to the questions you might have while creating a profile on sugar daddy websites .
Steps to make a perfect sugar daddy profile
Carefully select your photos

: Your profile pictures are the first thing a potential sugar baby is going to see. Make sure you select the best of the lot. Go for pictures which are more candid and show the type of person that you are. Make sure to put a few in a group as well.

A catchy bio

: Right after your pictures, the sugar baby is going to see the profile's bio or description. Make it catchy and to the point. Mention the things that interest you but at the same time leave something for the conversation as well.

Give the sugar baby a reason to start a conversation

: People get attracted to a profile wherein they find something they can relate to. Sugar baby is no different. Add some playlist, hobby, etc. It can be anything but make sure you mention that so that potential sugar baby can find a reason to start a conversation with you.

Have proofs

: If you are putting something in your bio/description, make sure you have something to show for it. What people hate the most on these sites are show-offs or fake information.

Be positive and an interesting person to talk to

: If your profile has depressing sayings or negativity on the profile itself, sugar baby wouldn't be interested in starting a conversation. Be positive and make them want to talk to you.

Cross check

: A lot of people simply move to the next profile if they find basic mistakes in the profile. So, make sure your profile is grammatically correct and error-free.
To remember while creating a daddy profile
To step up your game on sugar dating websites and make an eye-catching profile, follow these essential points:
A sugar baby wants a profile that looks subtly convincing and offers ample information with stark clarity. If your profile is like that, you already have laid the foundation of a possible sugar date.
On the other hand, if the profile lacks clarity, or if it is overdone, the sugar daddy can lose all his credibility on such dating websites. In worst case scenario, the profile can be regarded as a scam too.
It is imperative to create an authentic and convincing looking profile that clearly communicates the needs of the sugar daddy.
Steps to make a perfect sugar daddy profile
One of the biggest factors in making an impeccable sugar daddy profile is terms and conditions of such a dating arrangement. Like a sugar daddy , the first thing a potential sugar baby would like to know is the kind of sugar baby you want. Lay down all the demands that you have and what you can possibly offer. Mention all your requirements and expectations without any ambiguity and in simple, direct language. Beating around the bush will make the sugar baby lose interest in your profile or grow reluctant to meet you. Keep in mind, whatever you mention on the profile is exactly what the sugar baby will be expecting to see interact with. So, it is advised to be authentic and direct.
Personal information on sugar daddy dating sites
Authenticity of information on sugar dating sites has become an important factor. Even if that's not the intention, unauthentic information is generally perceived as a scam or catfish people. This will eventually take a toll on your credibility, jeopardizing the whole arrangement.
What to avoid in a sugar daddy dating profile?
When people plan to make a sugar daddy profile, they tend to worry about what all to include. The secret to a perfect profile, however, lies in knowing all the things that one shouldn't do. Here are a few basic mistakes you should avoid:
Don't stretch it

- the most common mistake made when preparing a sugar daddy profile is overdoing it. The confusion of what all to include can cause you to spill a lot more than what is needed. Therefore, to make a subtle profile, it is best to keep to short and straightforward. A profile that communicates all the necessary details tends to leave a lasting effect.

Avoid Lewd Details

- another common and a gross mistake made by men is getting carried away. Including lewd and obscene details in the form of words as well as pictures is a strict No-No. It is strongly repugnant to do so and can take away all your credibility and chances of finding a sugar baby.

Oversharing Personal Information

- please keep in mind that sugar dating is different than normal dating. Therefore, it is not the best idea to spill out all your emotions into your profile. Doing so makes the profile sentimental. Thus, defeating the entire purpose of a no-strings-attached arrangement.
Benefits from an impressive sugar daddy profile
Having an impressive sugar daddy dating profile:
Increases your chances of approached by a number of sugar babies.
Potential sugar baby can easily surf through a profile and can find required personal information to seek an arrangement.
Helps you enlist all your distinct and respective needs and demands along with it.
Being a person on sugar daddy dating, you already know what do sugar daddies want. Your profile is what will make the first impression on your behalf, make sure it's worth it!