How To Get Money From Sugar Daddy?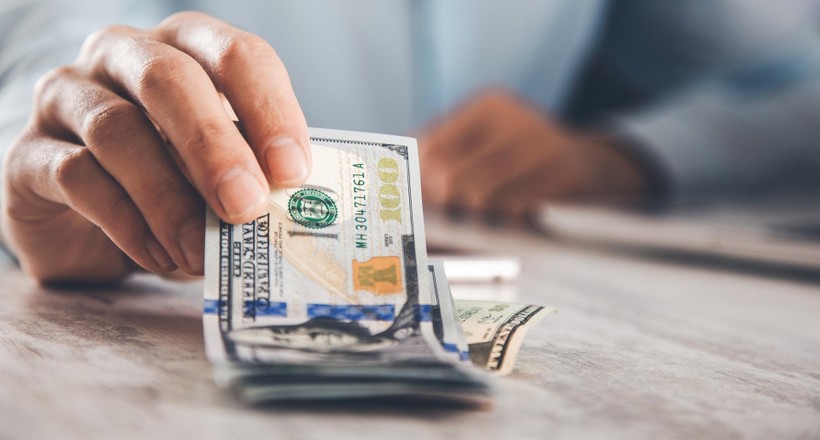 How do sugar babies get paid? The truth is they receive money in different ways, and every sugar baby should choose the payment method herself and discuss it with her sugar daddy. In this guide, we analyze each option, its pros and cons, extra fees, and the level of danger for both sugar partners to help you find the most convenient, and most importantly, the safest way to receive money from sugar daddy.
Cash
Privacy level: High

Untraceable: Yes

Reversal payments available: No

Convenient and instant: No
Cash is considered one of the safest ways to receive money from a sugar daddy for many reasons, but it's also simply what most people got used to. However, it's important to consider both benefits and drawbacks of receiving a sugar baby allowance in cash.
Many sugar babies and sugar daddies choose untraceable cash for privacy and safety reasons—such payments are completely anonymous, and this benefit can hardly be overestimated. Still, it's not that convenient, especially if you're getting a good monthly allowance. Cash payments are excellent for a sugar baby who's just met a sugar daddy on one of the sugar dating sites, goes on the first date, and doesn't want to share her bank information to get her PPM.
However, when it comes to long-term sugar relationships, getting and storing money in cash requires good managing skills and organizational skills (you'll need to control your spending to understand what you spend your cash on).
Pros
Anonymous, impossible to trace

Acceptable for most sugar daddies

No need to share your bank details

A sugar baby can deposit small sums in her bank account and spend the rest on rent, car, tuition, etc.
Cons
The moment of giving and accepting money can be awkward for both a sugar baby and a sugar daddy

A sugar baby needs to store the money somewhere or make bank deposits anyway

Cash can be stolen or lost easily
PayPal
Privacy level: Low

Untraceable: No

Reversal payments available: No

Convenient and instant: Yes
Is PayPal safe for sugar babies? It depends on what exactly safety means to you in particular. Let us imagine that you joined one of the sugar dating sites and met your sugar daddy. What is the chance he'll agree to send payment directly to your PayPal account? It depends on a daddy—not all sugar daddies want such kinds of transactions to be traced by the IRS or by their girlfriends or wives.
In theory, they can transfer up to $10,000 in a PayPal transaction, so it won't be a problem, but it can become a problem for a sugar baby. On the one hand, you don't have to pay taxes for payments sent by your family and "friends", but on the other hand, if your sugar daddy mistakenly designates your payment as a business-related transaction, the system will issue Form 1099-K to the IRS. Still, it's almost always fast and always convenient.
Pros
There is no need to provide a lot of personal details to a sugar daddy you've just met

Reputable platform with the highest level of security

Payments are processed very fast

Up to $10,000 per transaction
Cons
Electronic records of transactions can't be deleted and can be traced

Not 100% safe for a potential sugar daddy if he is married and his wife has access to his account
Cryptocurrency
Privacy level: High

Untraceable: Yes

Reversal payments available: No

Convenient and instant: Yes
Why make a bank deposit in 2022 when cryptocurrencies are more widely used than ever? It may seem that crypto payments are the best way to get money from sugar daddy, but as with all other payment methods on our list, there are things to consider.
First of all, it would be wrong to assume that every average sugar daddy you can meet on one of the sugar dating websites has a crypto wallet or is ready to pay in crypto, so you should discuss it first. Second, a sugar baby should know about cryptocurrency, and all crypto wallets a lot to accept this type of payment. The thing is, sugar scams with cryptocurrency are now the most common ones, so you should be 100% sure you can protect yourself. Third, it's not a secret that one amount of money you receive in Bitcoin can turn into another sum pretty soon, and it's not always larger. Still, it's anonymous, it's instant, and it's convenient if you know how to deal with cryptocurrency and crypto payments.
Pros
Completely anonymous and untraceable

Aside from scams, it is completely safe for both a sugar baby and a sugar daddy

Instant payments

Many good crypto wallets to choose from
Cons
Many crypto scams on most sugar daddy websites, on social media, etc.

Requires pretty deep knowledge of how cryptocurrency and crypto wallets really work

Not all sugar daddies pay in cryptocurrency, even on the best sugar daddy websites

The costs of cryptos are constantly changing, so you can lose part of money
Cash App
Privacy level: Low

Free from tracking: No

Reversal payments available: No

Convenient and instant: Yes
Imagine you are dating a sugar daddy willing to send money using Cash App. How should you react? On the one hand, it's one of the most popular apps for instant money transactions that lets users pay fast and without any difficulty. On the other hand, this app is also frequently used by scammers. In particular, if someone you've just met on a sugar daddy dating site says he wants to start a sugar relationship and pay you a large amount of money, there is only a small extra fee to pay, be aware that it's definitely a scammer. Moreover, you can only receive up to 1 thousand dollars a month if you are a new user (your limit will be raised then), so it won't work for most sugar babies who receive a few thousand dollars of a monthly allowance and want to receive it here and now.
Pros
Transferring money is easy, with just a click of a button

Best for mobile payments

The app is completely free

No need to provide lots of details to a sugar daddy

No reverse payments
Cons
Many fraudsters use Cash App to scam sugar babies

Not available for international use
Prepaid card
Privacy level: Mid

Free from tracking: Yes

Reversal payments available: Yes

Convenient and instant: Yes
"Sugar daddy wants me to get a prepaid card. Should I agree?"
There is nothing wrong with this payment way. A prepaid card is a great alternative to cash as you don't need a bank account to use it—you (or rather your sugar daddy) load it with cash, and you can use it almost anywhere, both online and offline. On top of that, you can withdraw your money from it and transfer it to your own bank account. However, such cards can be lost, and in this case, you'll need to call the card issuer, and though it's given by a sugar daddy, you'll need to reach him and tell him about a problem first.
Pros
It's easy to get a prepaid card

A sugar baby will be able to pay with a prepaid card almost everywhere

Large amounts of money can be transferred
Cons
Prepaid cards can be lost

A sugar daddy will be able to track the balance

Aren't accepted abroad

Usually, there are extra fees for any transactions
Final thoughts
So, how do sugar daddies transfer money? In any of the above-mentioned and many other ways. If you want to get a sugar daddy, you should choose a few preferred methods first and then discuss it with your potential sugar daddy to choose an option that will work for both. Do sugar daddies need bank info? As you can see, there are a lot of methods that don't require sharing your bank details with someone, so if it bothers you, just choose one of them and start a mutually beneficial relationship.